The Bishop of London's Address at the 2011 Royal Wedding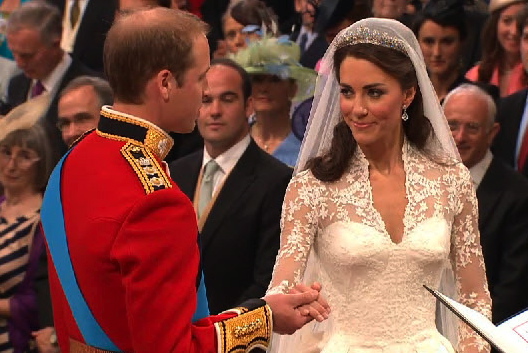 The wedding was glorious, understated, elegant, and honorable.
(You can access the official program HERE. All things related to the wedding, videos, photographs, etc., can all be found HERE.)
The two highlights for me were:
First, when Kate's brother magnificently read Romans 12: 1, 2, 9-18. It's message, though written almost two thousand years ago, was perfect for today's world which is experiencing so much turmoil, hate and violence. Here is a message which transcends all of that and points to the source of true hope. I'm so grateful that it's message was heard on every continent. I pray that it will be taken to heart by every living human being.
Secondly, I was really moved by the Bishop of London's Address/Sermon. When I heard it I immediately thought that everyone should have an opportunity to hear/read and meditate on its words. Thanks to Twitter friend, Paul Gardner (@PGardnerNZ) from New Zealand, I found a transcript HERE.
Enjoy.
29th April 2011
"Be who God meant you to be and you will set the world on fire." So said St Catherine of Siena whose festival day it is today. Marriage is intended to be a way in which man and woman help each other to become what God meant each one to be, their deepest and truest selves.

Many are full of fear for the future of the prospects of our world but the message of the celebrations in this country and far beyond its shores is the right one – this is a joyful day! It is good that people in every continent are able to share in these celebrations because this is, as every wedding day should be, a day of hope.

In a sense every wedding is a royal wedding with the bride and the groom as king and queen of creation, making a new life together so that life can flow through them into the future.

William and Catherine, you have chosen to be married in the sight of a generous God who so loved the world that he gave himself to us in the person of Jesus Christ.

And in the Spirit of this generous God, husband and wife are to give themselves to each another.

A spiritual life grows as love finds its centre beyond ourselves. Faithful and committed relationships offer a door into the mystery of spiritual life in which we discover this; the more we give of self, the richer we become in soul; the more we go beyond ourselves in love, the more we become our true selves and our spiritual beauty is more fully revealed. In marriage we are seeking to bring one another into fuller life.

It is of course very hard to wean ourselves away from self-centredness. And people can dream of doing such a thing but the hope should be fulfilled it is necessary a solemn decision that, whatever the difficulties, we are committed to the way of generous love. …

You have both made your decision today – "I will" – and by making this new relationship, you have aligned yourselves with what we believe is the way in which life is spiritually evolving, and which will lead to a creative future for the human race.

We stand looking forward to a century which is full of promise and full of peril. Human beings are confronting the question of how to use wisely a power that has been given to us through the discoveries of the last century. We shall not be converted to the promise of the future by more knowledge, but rather by an increase of loving wisdom and reverence, for life, for the earth and for one another.

Marriage should transform, as husband and wife make one another their work of art. It is possible to transform as long as we do not harbour ambitions to reform our partner. … (Please continue reading the rest of this short, wonderful address HERE.)

Your thoughts?