Saying Goodbye … With Anticipation
I hate good-byes. And this week I'm having to say "Good-bye" to Christmas (January 7th, the day after Epiphany, is when I put away my decorations). Christmas is over. Waaaaaeh—I just tried spelling it this way for the first time. Does it sound more whiney than "Waaaaaa?"
Anyway, this week I'll be be putting away all the Christmas decorations. Taking them down always makes me a little sad. It's like stuffing a bobbing, jack-in-the-box clown back into its box and pressing on the lid. I feel rather cruel putting him back into his box, but I LOVE it when I start twisting the handle. I love the anticipation—knowing that he's going to pop out any second and make me smile … again.
These make me smile: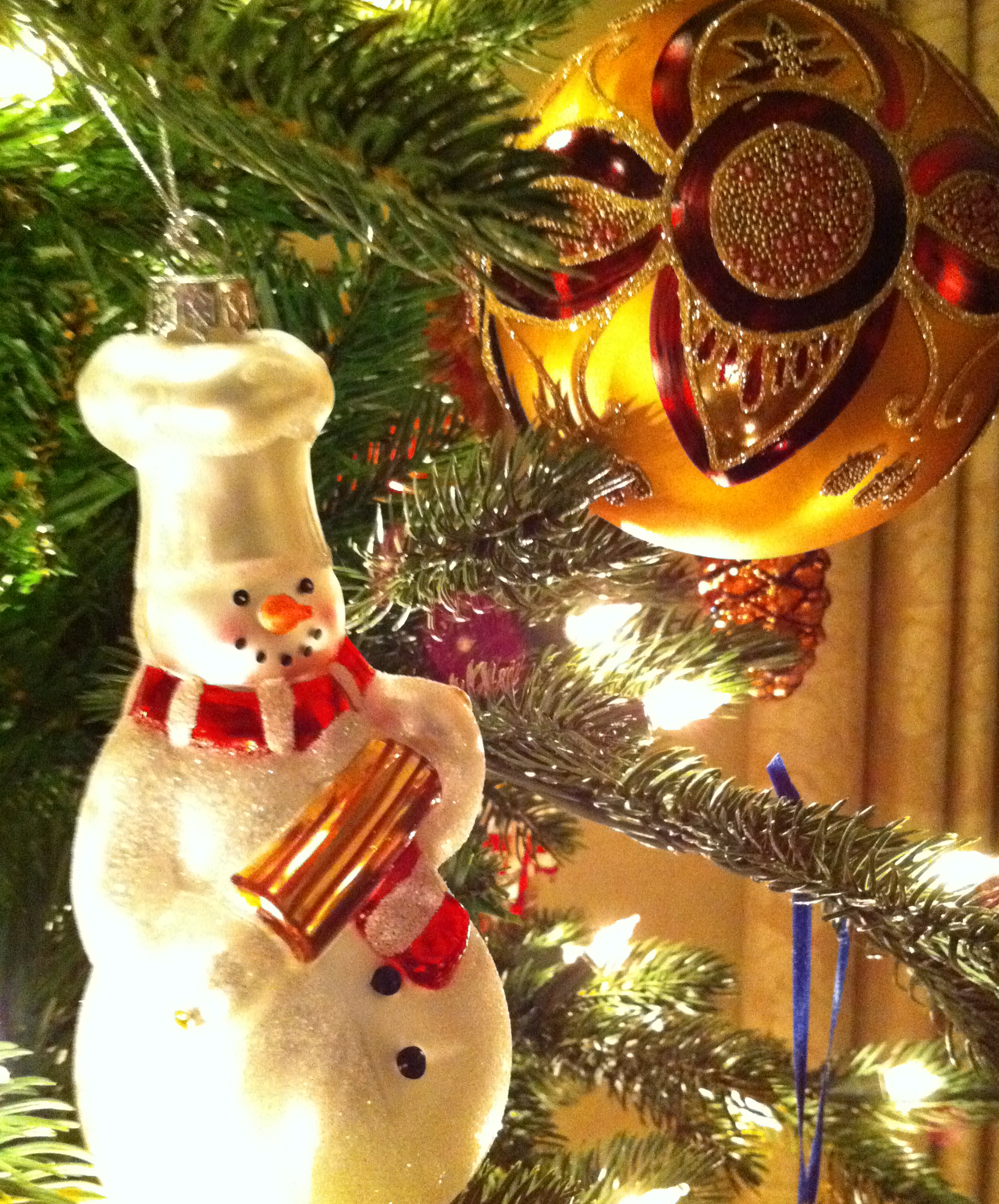 Most of my ornaments are red and gold. Those, nestled in the fir's greenery, are the perfect combination as far as I'm concerned. Radiant.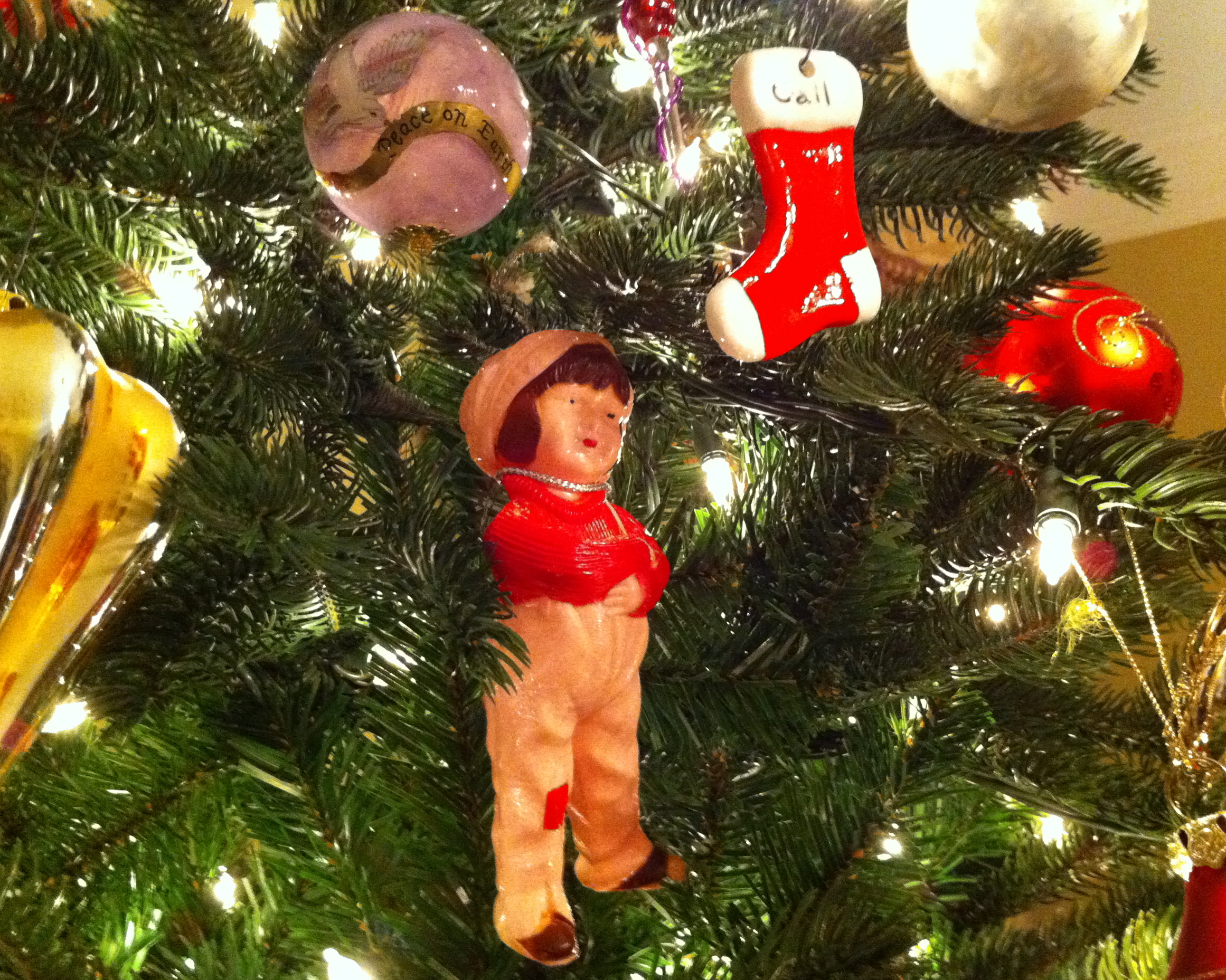 Unwrapping each ornament is like setting all the captives free, one by one, after twelve months of prison. Seeing really old friends in their new-found freedom is the best of all. This is a photo of one of my mom's ornaments. I've liberated it for 55 years in a row (it's ca.1922 or thereabouts). Think about that. How many things in your home have been with you your whole life … and before your life? Aren't they amazingly special?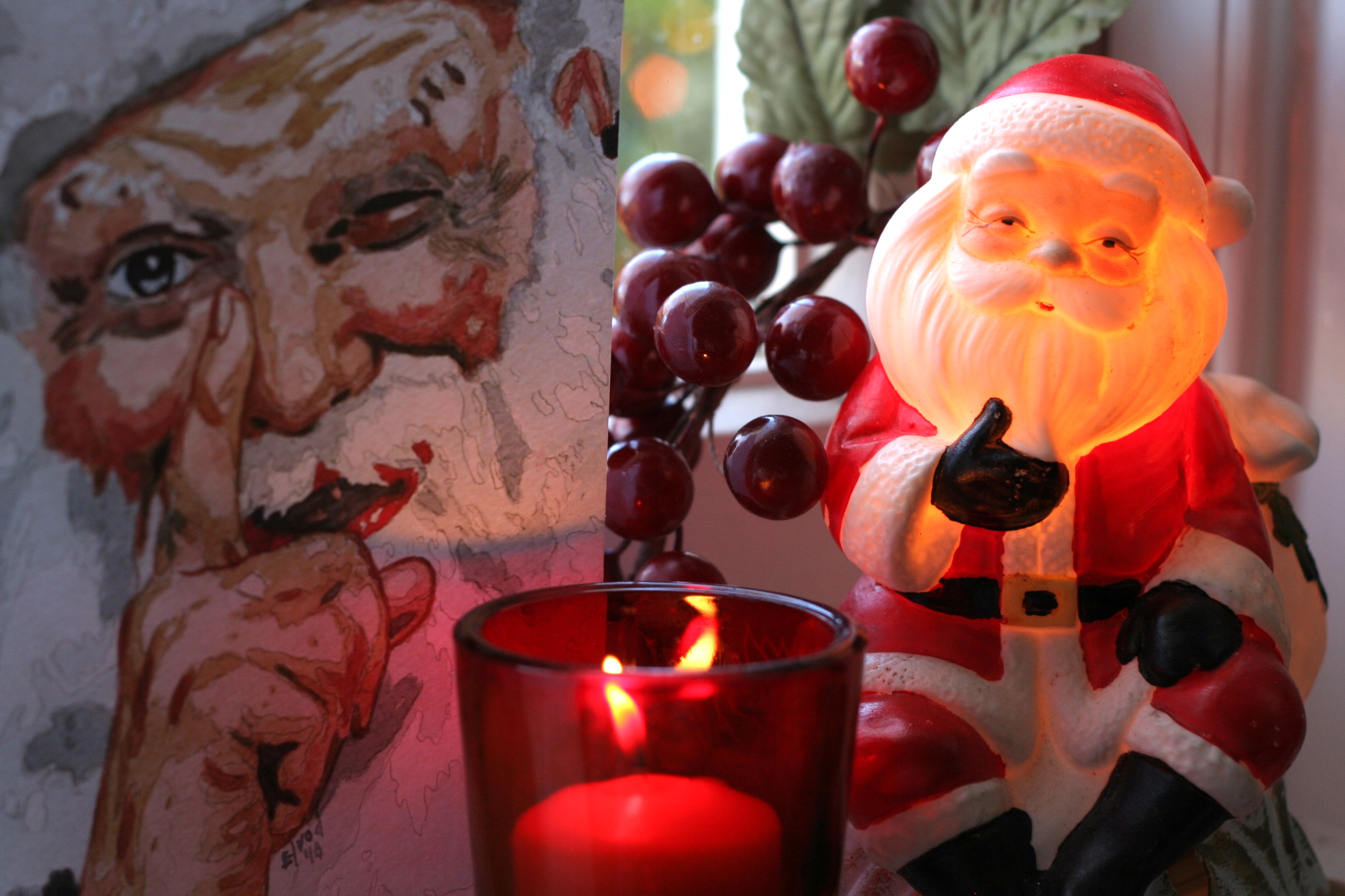 I love the images of Santa Clause. This little Santa light has been with me for as long as I can remember, at least since I was eight. I think I've only changed the bulb twice. Every year he finds a new place to perch. This year I had to put him in my kitchen window so I could look at him all the time. That's where I'd see him the most.  I loved setting him next to the new card I got this year—one reproduced from Randy Elrod's magnificent watercolor of Santa. What an amazing artist Randy is. How does he do it?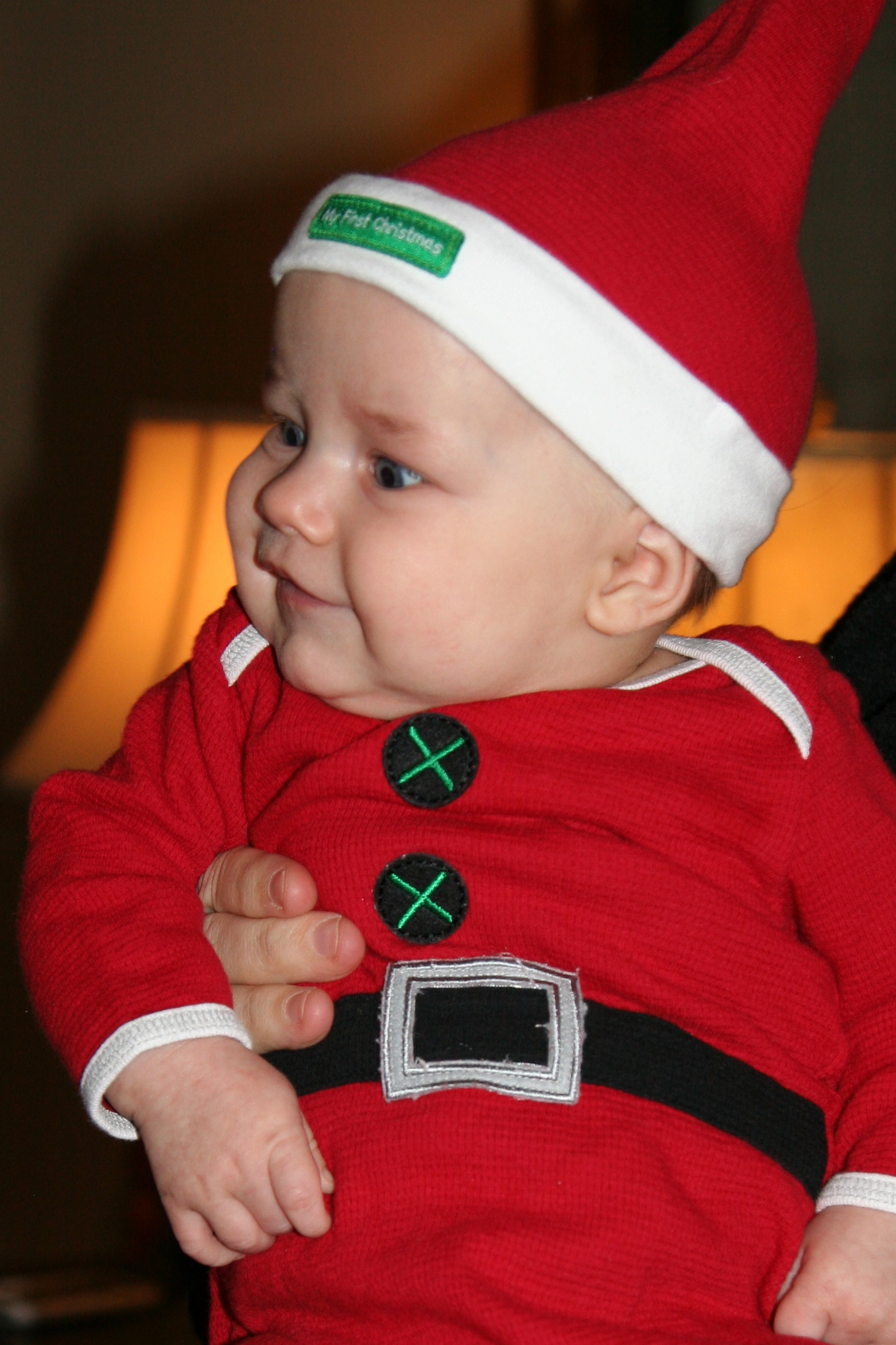 My favorite little Santa of all. The real star of Christmas this year. (Ben Spradlin, born October 01, 2010.) Nothing like a real baby at Christmastime.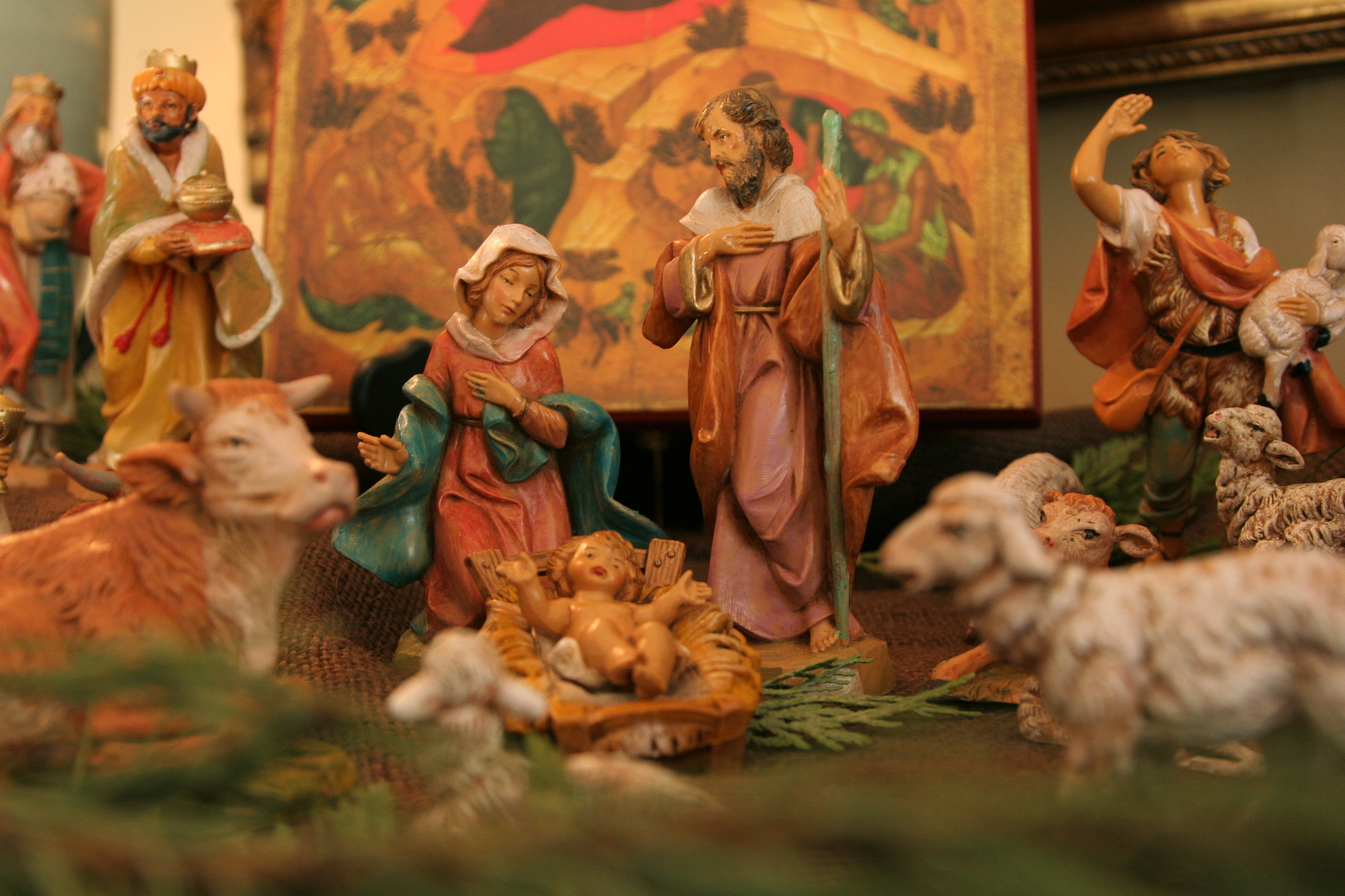 The reason for the season. Christ is Born! Glorify Him!
Here are some hymns we sing at Christmas.
Think about the theology in these for a minute. It will blow your mind!
#1
Thy Nativity, O Christ our God, hath shone upon the world the light of knowledge; for thereby, they that worshipped the stars were taught by a star to worship Thee, the Sun of Righteousness, and to know Thee, the Dayspring from on high. O Lord, glory be to Thee!
#2
Today the Virgin giveth birth to Him who is above all being, and the earth offereth a cave to Him whom no man can approach. Angels with shepherds give glory, and magi journey with a star. For our sake is born a young Child, the Pre-eternal God!
#3
How is He contained in a womb, whom nothing can contain?
And how can He who is in the bosom of the Father
be held in the arms of His Mother?
This is according to His good pleasure,
as He knows and wishes.
For being without flesh,
of His own will has He been made flesh;
and He Who Is,
for our sakes has become that which He was not.
Without departing from His own nature
He has shared in our substance.
Desiring to fill the world on high with citizens,
Christ has undergone a twofold birth.
#4
Christ is born, glorify Him! Christ is come from heaven, go to meet Him! Christ is on earth, be ye lifted up! Sing to the Lord, all the earth; sing out with gladness, all ye people. For He is glorified.
"Goodbye, 2010" … with anticipation … 🙂
(link to text of Nativity hymns)