Habits: Like well worn paths…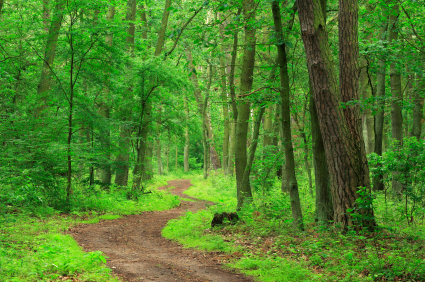 It's times like this when I wish I had more habits under my belt. I feel overwhelmed and out of sorts. Not sure which way to turn or what to do first. Habits make it possible to just act without much thinking. Habits are like well worn paths to get you where you need to go when you can't see the forest for the trees.
I don't have to think about getting up in the morning and getting dressed. I don't have to think about flossing and brushing my teeth at night because they are habits. Thankfully I have the habit of making my bed each morning—it took me about 25 years of marriage to get that one under my belt. I don't seem to have too much problem washing the clothes and putting them away anymore.
I have a few habits in my life that are still "in process." Setting aside a special time for prayer and Scripture reading are foundational to my well-being, but I still struggle with consistency in these areas. I've got feeding-the-dog down now and am working on mastering cleaning the kitchen sink each night before bed.
Habits which have been particularly hard to nail down are ones like putting the dry cleaning outside for pickup every Monday and Thursday, exercising everyday, and writing my World Vision children on a regular basis. I sent them Easter cards—the ones provided by WV—but have not written any letters since Christmas.
Two of the most stubborn habits for me to master are keeping up with my email, keeping my inbox to zero (don't tell my husband but I have 1459 messages in my inbox), and blogging regularly. I really would like to be blogging more. There is a lot of fascinating things I know would make great blog posts, but I just can't seem to get off the dime. I just don't seem to have the energy to get started. I haven't developed the habit to see me through.
When life is interrupted, becomes very stressful, and your "reserves" are spent, habits come in very handy.
Everything for me, right now, seems like such a major effort. A lot of challenges have come my way all at once. (For some reason the Lenten Season is often filled with an extra dose of trials.) Many of my friends and some of my family are going through very difficult circumstances and I want to be there to support and encourage them as much as I can.
I also have two sick children at home who've needed a lot of extra attention. My husband's been traveling a lot in the last month, so my backup hasn't been here. It seems like I'm the one shouldering the load. It's really beginning to drain me. Our youngest, Marissa, has a horrible case of Mono. She came home from college for Spring break and should have gone back on March the 13th. Here it is the 26th, she is still home and I think she'll have another week here, at least. Our second youngest, Madeline is having major surgery this coming Monday. The two of us have gone to doctor's appointments, one after another, for several weeks now. Talk about exhausting.
I've noticed that when my resources are depleted I fall back on my habits, the good ones and the bad ones. It's in times like these that I wish I had a lot more good ones. I'm glad for the good habits that are well engrained. As for the others, I must pay attention to how I feel right now knowing that they COULD have been available to me IF ONLY I had been more faithful to develop them. For now, all is not lost however. I have my family and friends to gently prod me to do the things which need to be done. (I hope it's gentle)
My Twitter friend, Peter Pollock, has nudged me from time to time to keep blogging. Today he gave me a BIG push by mentioning me on his blog. I was honored but simultaneously embarrassed because those who will come to my site through his will not see anything new I've written since March the 1st—except, now for this post. Truth is, I want to do better, not because I'm succumbing to peer pressure but, because writing/blogging is something I really do want to do. I wish the habit of writing was already well rooted in me. But … it's not.
So, I've been gently prodded to post today. That's OK. Whatever it takes, for now. Thanks for your encouragement, Peter. Maybe someday I won't need to be prodded. Maybe someday it will be a habit.
"Habits are safer than rules; you don't have to watch them. And you don't have to keep them either. They keep you."
Frank Crane
QUESTION: What habits do you know you should be working on, but keep avoiding? Which ones will be the best, well-worn paths to help you get where you need to be?